Cisco announces Spark, a new collaboration tool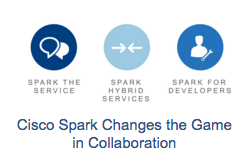 Cisco has announced a new offering to deliver messaging, meeting, and calling from the cloud. Cisco phones and video conferencing systems also can plug into the cloud and access these new services. Some details from the Cisco announcement:
It is designed from the ground up for highly secure collaboration that is delightful to use. Today, most of us use unconnected tools for team messaging, virtual meetings and phone calls.  Called Cisco Spark, our new offer mixes messaging, meeting and calling in such a simple way that it is hard to tell where one ends and the next begins. With Cisco Spark, all three are parts of a complete user experience. For instance, with a single click you can turn a phone call into a video meeting.  With a swipe you can move a video call from a room system to your mobile phone and then to another room—so you don't have to miss anything when you need to move.
It makes setting up video rooms and phones a snap. Have you ever shown a QR code on your smartphone to board a plane? That's how easy it is to set up a desk phone now.
It connects phone systems to the cloud. Enterprises have a lot invested in phone systems and other on-premises equipment. Cisco Spark Hybrid Services enables entirely new and amazing experiences by connecting this equipment to the cloud.
Contact us if you'd like to learn more about Cisco Spark, and evaluate if it's a good fit for your organization.