Peoples Choice Credit Union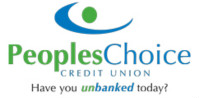 One of the most important aspects of managing a financial institution is assuring customers that their assets are safe. In today's hacker-rich environment, smaller institutions with few IT experts on staff must find creative ways to control information security. For PeoplesChoice Credit Union, partnering with WGTECH is a cost-effective way to access the advanced solutions it needs. PeoplesChoice Credit Union serves more than 14,000 members via its five locations in York County, and holds $121 million in assets. It works with external providers for most of its technology needs, including WGTECH, with whom it has partnered since 2000.
[audio mp3="http://wgtech.com/wp/wp-content/uploads/2015/03/Peoples-Choice-Credit-Union.mp3"][/audio]
Listen how Peoples Choice Credit Union chose WGTECH for managed IT services to have comprehensive support at a predictable monthly cost.
Information security is a "mission critical" priority for PeoplesChoice. And, like most small- to medium-sized businesses, the credit union relies upon a wide variety of technology, but does not have the staffing budget of larger firms. "We need sophisticated, advanced support, but we don't have enough work for a full-time person," says Luke Labbe, President, PeoplesChoice Credit Union.
The credit union partnered with WGTECH to provide a wide array of services, from recommending technology solutions all the way through purchasing, installation, and support. It also has relied upon the company for the stringent information security solutions it needs to protect its data.
Specific solutions include:
Information security, including intrusion detection and daily monitoring services.
Server upgrades, maintenance, and management. "Whenever we need to upgrade our servers, WGTECH is right here with a plan," says Nancy Grant, VP, PeoplesChoice Credit Union. "It is seamless."
Disaster recovery planning, including establishment of an offsite disaster recovery facility. "WGTECH was instrumental in setting up our facility," says Grant.
Network monitoring and maintenance.
Technology consulting, sales, and installation.
For PeoplesChoice, the benefits are clear. "Working with WGTECH is much more cost effective for us than hiring staff," says Labbe. "They have a lot of people with different skill sets, and depending on our issue, they can send in the right person."
In addition, the credit union has the information security protection it needs. "Our last IT audit was very clean," says Labbe. "WGTECH helps us meet our regulators' expectations of security."